China's automotive industry has entered the era of existing market competition, and a necessary means to maintain competitiveness is refined operation of customer experience, which can be achieved through experience management and experience monetization.
From the perspective of experience monetization, service quality managers can boost business efficiency and finally realize user full life cycle value operation through the activation of loyalty value and the improvement of profitability.
Service quality managers can build a continuous journey experience for customers through experience management, including repairing experience breakpoints, monitoring and remodeling the whole journey.
        Experience monetization-oriented
User Loyalty Value Activation
Excessive competition in the existing market results in low profitability of dealers. Although consumers have more needs for maintenance as their vehicles age, their trust in 4S stores will gradually decrease with the expiration of warranty period. Therefore, the realization of long-term customer value through digital loyalty activation becomes the optimal solution in the dilemma.
In order to activate customer value, loyalty analysis system needs to be established in the short term so that typical business scenarios can be empowered with digital tools, specific improvement schemes can be implemented, and emotional value can be realized.
The establishment of a long-term customer relationship requires the building of an emotional attachment system. Through loyalty directing and digital empowerment, the long-term maintenance and realization of emotional value can be achieved.
Dealer Profitability Improvement
The profitability improvement solution is an experience consolidation and monetization solution for dealers. Through the four-phased coaching processes of problem diagnosis, coaching for improvement, enhancing marketing and effect consolidation, together with the classification and analysis of 11 business modules, the solution is able to help dealers increase the number of vehicles serviced and the amount of per customer transaction while maintaining consumer satisfaction.
The profitability improvement solution mainly develops coaching strategies to improve after-sales performance and customer retention rate instead of simply increasing the amount of per customer transaction. Meanwhile, KPIs related to revenue growth are introduced accordingly, including the number of scheduled maintenance, fast-flow parts penetration rate, sheet-metal working and spraying SSP growth rate, insurance renewal rate, per customer transaction, etc. Case teaching method is applied to put the solution into practice, track improvement effect and correct deviation in a timely manner.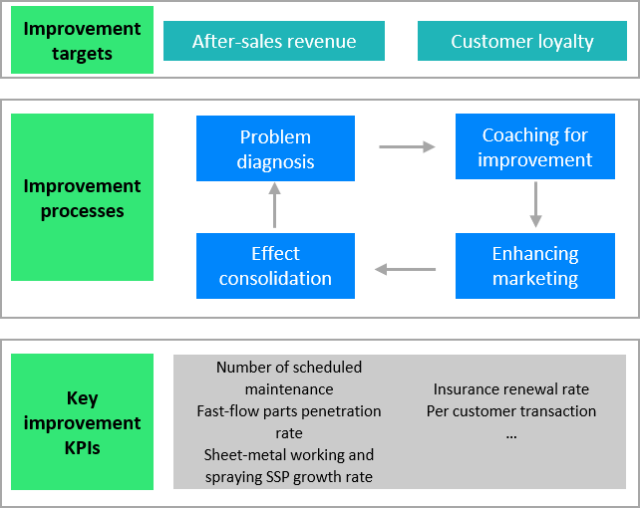 Experience management-oriented
Whole Journey of User Experience Monitoring Solution
As the competition in the existing market intensifies, major automotive brands are paying more attention to customer satisfaction, so a complete customer satisfaction monitoring system has become an essential factor for achieving success in market competition.
However, there are all sorts of user journey experience satisfaction management tools which monitor some segments of customer journey independently and adopt different analysis dimensions. How to sort out, organize and unify satisfaction management tools to improve the whole journey satisfaction monitoring has become an urgent issue.
The whole journey monitoring solution will help OEMs solve customer experience management problems through the four steps of sorting the evaluation system, optimizing strategy analysis, designing implementation plans and improving monitoring processes.
User Experience Breakpoints Repair
The perception of customer experience runs through the entire life cycle. However, with the growth of car ownership period and the changes of service delivery mode, there will be differences and disconnections in terms of customer experience and the customer satisfaction will decline as well.
Therefore, the location and repair of customer experience breakpoints, with the complete monitoring of journey as its basis and the excellent SSI customer satisfaction journey matrix as its analysis template, is an important solution to improving customer satisfaction and building a full life cycle of customer experience.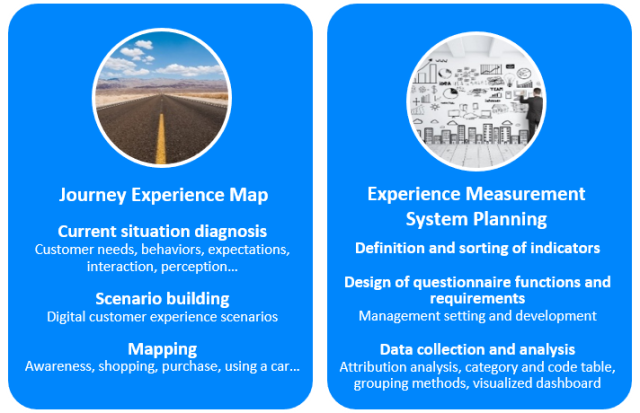 Whole Journey of User Experience Rebuilding
With the launch of digital empowerment tools, the map diagnosis, design and future planning of the full life cycle customer journey experience are the future trend in the new retail era.
Journey rebuilding needs to cover online and offline life cycle customer experience measurement and evaluation system, NPS customer perception evaluation system and supporting internal business process and closed-loop management mechanism. It supports the development and implementation of customer experience management platform and is able to upgrade customer journey planning and experience measurement closed-loop system comprehensively.
Other Retail and Customer Experience Solutions
Contact Us
Thanks for reaching out to us. J.D. Power is a global leader in consumer insights, advisory services and data and analytics.
For business inquiries, please contact:
Tel: +86-21-8026 5800 (Shanghai)
Tel: +86-10-5921 9351 (Beijing)
Email: china.marketing@jdpa.com